Network Infrastructure by Progress Communications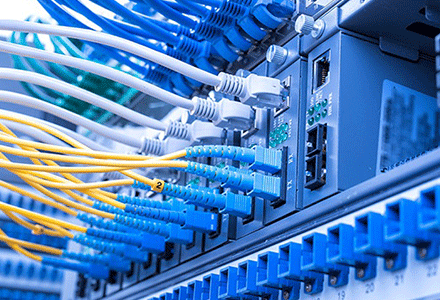 There has been an explosive growth in remote filesystems and software services over the last several years as business have sought to reduce their costs and improve their services by moving them to remote locations. Many times, in order to compete in an increasingly global marketplace, businesses must maintain systems at multiple locations, and provide seamless access to these systems from anywhere in the world. As the amount of information stored elsewhere increases in size and complexity, users and systems accessing these resources require faster and better availability. Streaming solutions, hosted cloud services, remote filesystems, and VOIP technologies all demand a level of quality and reliability that was unheard of just a few short years ago. Without the correct network infrastructure, your users won't be able to access the systems and information necessary to do their jobs, and your systems won't be able to access other critical resources, such as databases and filesystems.
In many ways, this demand is exciting and carries with it many benefits for everyone. In many other ways, it presents headaches for systems designers and IT managers trying to keep abreast of the ever-changing technology requirements of constantly changing scenarios.
At PCI, we've developed the expertise necessary to recommend the right hardware for every application, in every environment, every time. We're a certified Cisco partner, which means you'll have access to the best technology at the best price, configured and installed by Cisco-certified installers.
Don't be left guessing at whether your infrastructure design will handle the capacity and quality requirements of your organization's business processes. Don't be kept up at night wondering whether the network is available to users and computer systems. In this day and age, 24/7 network access is a requirement. Contact us today to see how we can help make certain your next infrastructure design lets you sleep at night.