Structured Cabling by Progress Communications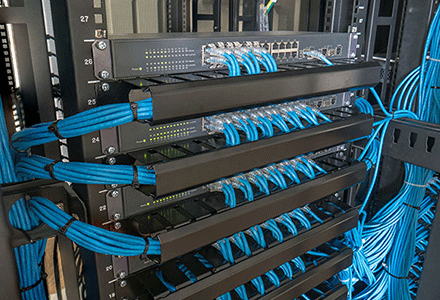 Cabling remains one of the most critical aspects of data and voice service delivery. Depending upon the application, there are a number of options available, including fiber, coax, and traditional copper twisted pair cabling.
Cabling has changed somewhat over the years, in response to technology improvements and quality requirements. Particularly in the case of data and digital audio and video signals, with today's quality of service requirements, it's more important than ever to make certain you are using the right medium for the job. Even within individual cabling technologies, there are a number of different standards, each designed for a specific type of application. Whether the goal is to provide voice, video, or data services over long distances, or to account for potential electromagnetic interference, there's a specific cabling that should be used. Then, there are multiple connectors to cover the vast range of connectivity options. Entire books can be, and have been, written on each cabling technology, and for good reason: Choosing the right cabling the first time can, and often does, dictate the success of successive phases of any service delivery project.
Cable management is almost just as important as the cabling itself. We've all been in situations where our cabling management is not nearly as effective as it needs to be and we waste time tracing wires through a building in an effort to troubleshoot a service outage. It's a lot of work and, frankly, a lot of wasted time and energy that could be spent more productively. In today's fast-paced, always-available business environments, lack of an exceptional cable management solution can cost an organization thousands or even millions of dollars.
The specifics of cabling solutions can be a lot to take in and understand, but that's what you have us for. We have the equipment and knowledge to handle all aspects of structured cabling, including both outside plant distribution and inside plant distribution. We provide cabling solutions for all subsystems, from demarcation points to work area components, and specialize in end-to-end connectivity, no matter the distance.
Our years of cabling experience with all mediums will ensure the job is done right the first time, with careful consideration paid to signal quality and cabling quality and longevity. With something as important as your cabling, you can't afford not to take the time to make sure it's done right.
At PCI, we have highly-trained, certified cabling installers, with the experience and capabilities necessary to install and terminate structured cabling from all major manufacturers. In addition, our internal training and certification program ensures that all work is completed to the highest standards of excellence. That's why we offer warranties on all installs, and another reason you can choose us with confidence for any project, from dirt to desktop - and beyond!
Contact us today to see how we can make your next project a resounding success now and in the future.